MANUFACTURERS AND STUDENTS CUSTOMIZE WD-40/SEMA CARES FOOSE F-150 AT SEMA GARAGE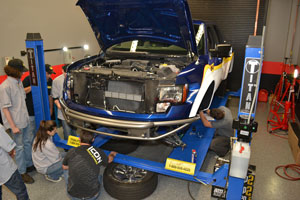 Ten SEMA-member manufacturers and students from the Alex Xydias Center for Automotive Arts (AXC) gathered at the SEMA Garage-Industry Innovations Center in Diamond Bar, California, this week to customize the WD-40/SEMA Cares Foose Ford F-150 off-road truck, which will be raffled off at the 2013 SEMA Show to benefit three SEMA Cares charities.
The Foose-inspired truck is the first vehicle to be built inside the new, state-of-the-art SEMA Garage—a facility that allows SEMA-member companies to test and prototype parts, try its 3D modeling and printing and use its full-scale photo studio. Through a partnership with AXC, leading SEMA manufacturers worked alongside underprivileged teens and young adults to install parts and equipment on the truck.
The vehicle pays tribute to the off-roaders, truck enthusiasts and aftermarket companies that have used and trusted WD-40 Co. products over the last 60 years. Instead of being auctioned like previous WD-40/SEMA Cares vehicles, the enhanced '13 Ford F-150 Lariat will be raffled off to one lucky winner in the spring of 2014. With raffle tickets costing just $50 starting November 1, 2013, owning a Foose-inspired truck is now more accessible than ever to all automotive enthusiasts.
"Can you imagine winning a one-off vehicle like this for only $50?" asked Chip Foose, president and CEO of Foose Design. "Not everyone gets to make people's dreams come true on a show like "Overhaulin'," but you can help make kids' dreams come true by purchasing your raffle tickets and supporting a great cause."
Proceeds from the raffled vehicle will benefit three SEMA Cares charities—the SEMA Memorial Scholarship Fund, which is dedicated to fostering the next generation of automotive leaders and innovators; Childhelp, an organization that provides services to abused and neglected children; and Victory Junction, an organization that provides life-changing camping experiences to special needs and chronically ill children.
The WD-40/SEMA Cares Foose Ford F-150 build partners include: Foose Design, Source Interlink Media, LGE*CTS Motorsports, Whipple Superchargers, Icon Vehicle Dynamics, MHT Wheels, Boatec, Magnaflow, BASF, Katzkin, Audio Innovations, Amp Research, Fuel-Tool, Bulldog LED Lighting, Banks Power, HushMat, Mag-Hytec, Warn Industries, Optima Batteries, Falken Tire, PowerBass, Atlas Spring, Clarion and Metra Electronics.
This is the sixth vehicle WD-40 Co. and SEMA Cares have teamed up to build, and the fourth vehicle Chip Foose has designed with them. To date, WD-40/SEMA Cares vehicles have raised more than $575,000 for SEMA Cares charities.
For more information on the truck build, visit WD40.com/Foose.