20-UP GM HD 0-2" IR SHOCK SYS W/ TUBE UCA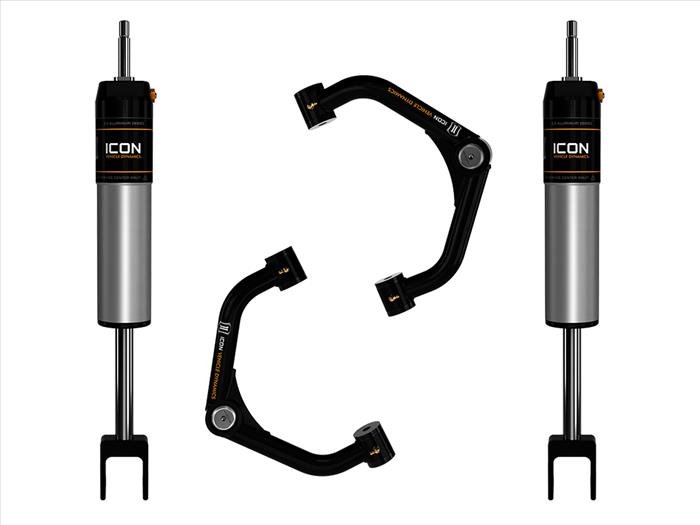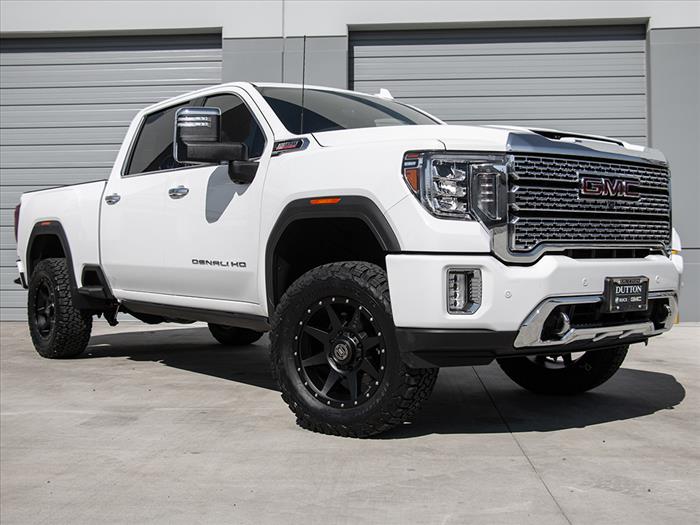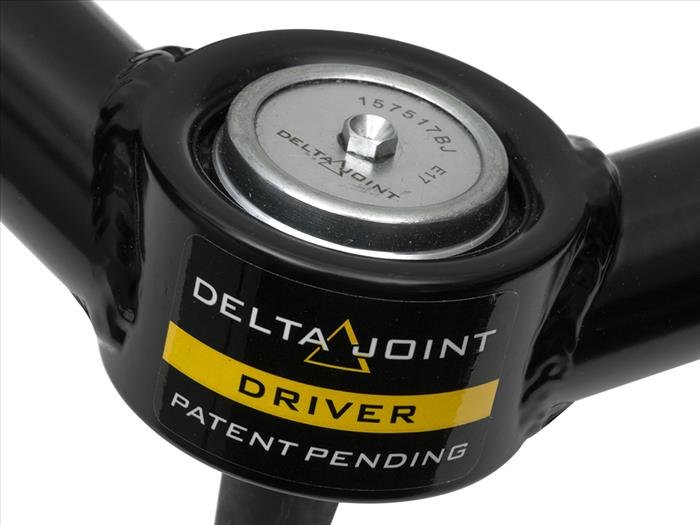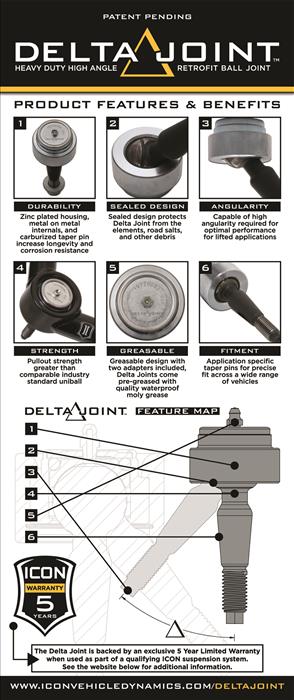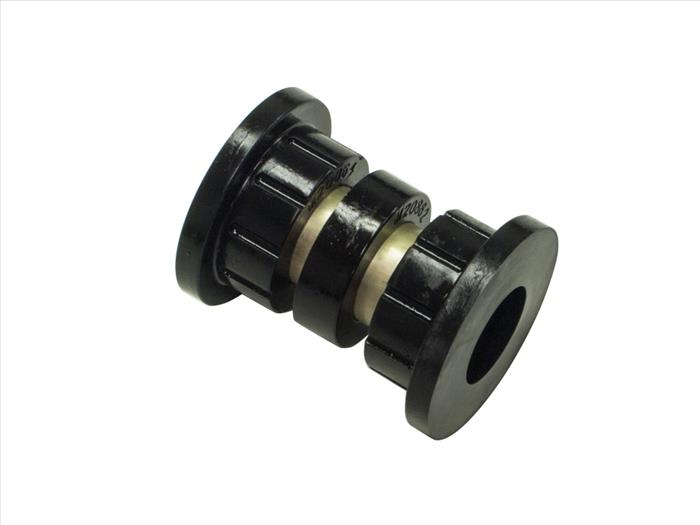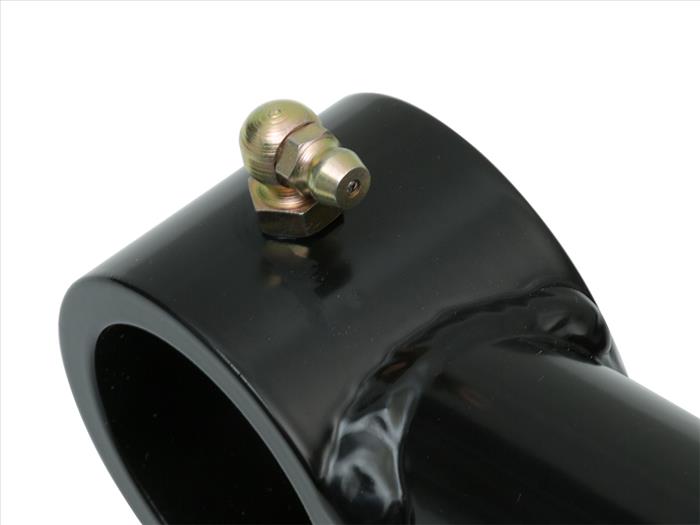 overview
Take the performance of your 2020-Up GM HD truck to new levels with the ICON Vehicle Dynamics Delta Joint tubular upper control arm kit. All ICON tubular upper control arms are constructed from CNC bent 1026 DOM steel tubing and then powder coated to a semi-gloss black finish for maximum strength and corrosion resistance. ICON upper control arms are engineered with built-in caster correction for optimal alignment specifications and confidence inspiring handling. A main benefit of ICON upper control arms is the increased wheel travel when paired with our 2.5 series shock absorbers, this translates into superior performance and ride quality for your 2020-Up GM HD.
These upper control arms feature ICON's patented Delta Joint. The Delta Joint is a heavy-duty high angle ball joint that combines the durability of a ball joint with the performance characteristics of a traditional uniball. While the industry standard uniball does a great job of allowing the control arms of a vehicle to articulate with little bind, they do have an inherent weakness that leaves more to be desired when used in a daily driven application - exposure to the elements. The Delta Joint features a zinc plated housing providing the first layer of corrosion resistance, while a tough grease seal keeps potentially harmful elements out of the inner workings of the joint. Metal on metal construction and a greaseable design increase the longevity of the Delta Joint while at the same time allowing for noise-free operation. What makes the Delta Joint unique is that it brings the best of both worlds to ICON upper control arms with features that make it more robust than a uniball, and at the same time capable of greater angularity than a typical ball joint.
To ensure compatibility, ICON is no longer offering GM 2500HD/3500HD upper control arms as individual components. Upper control arms can only be purchased in unison with ICON shock absorbers as a complete system. The included ICON Vehicle Specific (V.S.) 2.5 Series shocks are designed and built to give your vehicle outstanding performance off-road and a smooth ride on the street. These shocks are configured specifically for each application in both length and damping tune. Like all ICON'S Shock Absorbers, V.S. 2.5 Series shocks are 100% rebuildable and 100% revalveable. The larger diameter and oil volume of ICON 2.5 IR Series shocks provide better ride quality and heat dissipation properties than the standard 2.0 Aluminum Series IR Shocks. If you are looking for a more user defined tune, consider looking into the Compression Damping Control Valve (CDC Valve) shocks.
features & Benefits
Features ICON's Patented Delta Joint (U.S. Patent No. 10,731,700)
Premium grade 5WT shock oil for consistent suspension damping along a wide temperature range
7/8" diameter induction hardened, chrome plated shock shaft
One-piece impact extruded aluminum cylinders offer excellent corrosion resistance and consistent finish
6061 aircraft grade aluminum CNC machined components
100% Rebuildable
100% Revalveable
1026 DOM Steel Construction
CNC Bent Tubing
CNC Machined Bushing Housings and Sleeves
Built-In Caster Correction
Serviceable Dual Stage Bushings
Black Semi-Gloss Powder Coat Finish
One-piece digressive piston design with vehicle specific valving for unsurpassed performance and ride quality on and off-road
Nitrogen charged monotube design with internal reservoir
download installation guide
Tech Info:
OEM Wheels & Tires Fitment: Yes
Recommended Aftermarket Wheels: ICON Alloys - 18x9 with 5.5" Backspace / 12mm Offset
Recommended Aftermarket Wheels: ICON Alloys - 20x9 with 5.5" Backspace / 12mm Offset
Recommended Aftermarket Tires: 35" x 12.50" (Larger tires may fit but fender trimming and modifications will be required.)
TECH NOTE: The additional down travel provided by an ICON Suspension System can cause clearance issues between the sway bar and the stock splash guard as the suspension approaches full extension. ICON Vehicle Dynamics 2020-UP GM HD Splash Guard Kit, part number 77202 recommended.
Request a Quote