MOTOR TREND – JUSTIN REITER AND HIS ICON EQUIPPED TUNDRA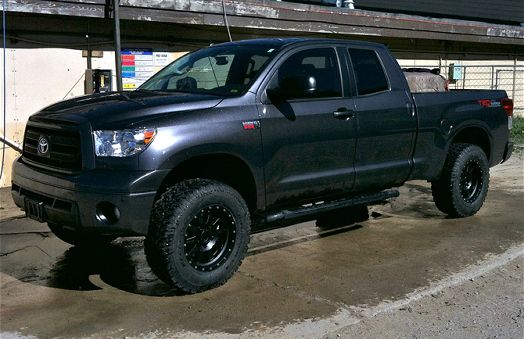 Quick Stats: Justin Reiter, snowboarder, U.S. Snowboard Team
Daily Driver: 2012 Toyota Tundra (Justin's rating: 8.5 on a scale of 1 to 10)
Favorite road trip: Stelvio Pass, Italy
Car he learned to drive in: 1971 VW Beetle
First car bought: 1982 Subaru Legacy wagon Justin Reiter, an Olympic snowboard hopeful in the U.S. parallel giant slalom and parallel slalom, loves his 2012 Toyota Tundra so much that he often sleeps in it. "As a professional snowboarder, I travel a lot and I travel with a lot of gear, so having a six-foot bed was mandatory, so over the course of the summer for the past five months I've lived in the back of it while training in Park City, Utah," he says. Reiter says he put a top on it and it doesn't take away from the look of the truck. "I think Snugtop does a phenomenal job of matching the line of the vehicle so that you don't lose anything by putting one on your truck," he says. "It still looks like a truck. It looks sick, and it's got enough cargo (room) for me to carry all of my stuff in the summertime." He can haul four mountain bikes, a KTM motorcycle, and his camp gear. He also built a shelf for his bed.The only negative aspect about the truck is having to fill up the gas tank . "Nobody likes filling up a 20-gallon tank for a truck," he says. "Especially these days. That's probably the biggest downfall." Reiter was attracted to the Tundra by its aesthetics. "I love the look of the Tundra. I think it's got a really powerful stance," he says. "I love the snub nose. I think it looks pretty strong, a pretty confident look." He got it customized a bit. "I upgraded the suspension, the wheels, and the tires to level out and give it better handling, especially off-road. So I put in Icon level 1 suspension kit on it, with 18-inch Method wheels and some BFGs on there," he says. "I got the Rock Warrior package because it's all blacked out. I'm not a huge fan of chrome, so I wanted it to look as tough as possible." Reiter trains in the summers by hiking or mountain biking, and he sleeps in the Tundra when he goes to places such as Zion National Park or Fruita, Colorado.
"This summer I lived in Park City, Utah, and there we have the U.S. ski team and the U.S. snowboard team training facility, and I lived out of my truck for five months there. I would train about eight hours a day, 6 hours in the gym each morning, and in afternoon I would go ride my bike, go for a run, or go backpacking or dirt biking as my cross-training to get cardiovascular, my aerobics." Reiter technically has weekends off, which just means he doesn't have to ride with heart monitors. "We don't have to ride at set levels — we don't have to make sure that we're not exceeding our lactate threshold. We're able to just go out and ride," he says. "We'll join up with a bunch of people and we'll head out into the mountains and pick a different place and ride for the love of riding, hike for the love of hiking, backpacking and everything." This is Reiter's first new car and first pickup truck. "For me to have my own truck that I can call my own, it's pretty fun. It's badass," he says. "I got a phenomenal deal from a dealership in Salt Lake called Mark Miller Toyota and they really helped me out, recognized that I was an athlete and gave me a great trade-in value on my 2006 GMC Yukon. I was able to afford this truck and it's been awesome. I love having a truck. I love being able to put my dirt bike in the back, as well as have my dog ride in the back when I don't have the topper on it.
Reiter grew up in Summit County, Colorado, and learned to drive in his mom's manual 1971 Volkswagen Beetle. "It was my mom's first car and we kept it for that long. The car's name was Bertha because that was the name my mom gave it, and so you don't change a car's name," he says. "I had studded snows on it, so I could pretty much go anywhere. But with all that weight in the back, I could do donuts like nobody's business." Of course he never told his mom how hard he drove the Volkswagen. "I'd go into empty parking lots that were covered in snow and go as fast as we could, pull the e-brake, turn it hard left and spin around as fast as we could. It was a blast. Despite the fact that it could have zero off-road capabilities, we would take it on every Jeep road that we could possibly find," he says. "It had a hole in the floor and if you went through a puddle fast enough that was deep enough, it would literally gather water from outside the car and it would shoot it up straight next to the gear shifter and spray it off of the roof of the car and get everybody in the car wet. It was awesome. It was the most fun car I've ever had." Reiter said his mom bought it when she turned 16 in Baltimore, and she kept it as her daily driver until he turned 16, when she gave it to him. "The odometer stopped working at a certain point so we have no idea how many miles were on it and by the time I got a new car that was a little bit safer, more reliable, and able for me to drive longer distances than 40 miles without risk of possibly something going wrong, Bertha never broke down. She was fantastic," he says.
Learning to drive was easy because the area he grew up in was sparsely populated. "Where we live there's not a lot of people, so you get to have as much fun as you want — you don't have to worry about hitting people. We don't have traffic, we don't really have to worry about that stuff, and we don't have to worry about parallel parking," he says. He got the car his sophomore year in high school and at junior prom, won a used 1992 Pontiac Grand Prix. "It was donated as an after-prom gift. They had a raffle for a car that would motivate kids to stick around at the afterparty where there was no drinking," he says. "It was faster than a bat out of hell and then some lady hit me and totaled it because it bent the frame."
Reiter graduated to a 1982 Subaru Legacy wagon, which he bought with money saved up from his jobs as a mountain bike mechanic, pizza cook, busboy, and golf pro. "We live at 9000 feet, so driving to Denver, which is only 60 miles away, in such an old car where the fenders are being held on by coat hangers, it wasn't realistic. So after two years I got a Subaru. So that was nice," he says. "It would actually go over 60 miles an hour, which was a huge thrill. But I'll always have a special place in my heart for Bertha." After the woman totaled the Pontiac Grand Prix he won at junior prom, he took the insurance money from that and his Subaru to buy a 1996 Subaru Legacy wagon.
Being a professional snowboarder, Reiter goes to many beautiful destinations around the world. "There's this pass in Italy called Passo Stelvio, and it's probably one of the most magnificent roads I've ever driven," he says. "There's a road bike race called the Giro d'Italia and it's a section of that that's infamous. I don't know how they built this road. It's absolutely gorgeous. It switches back on top of itself, and you go up to the Stelvio glacier. It's a magnificent road." He's also trained there. "A lot of different teams train there because in the fall you go find the best snow that you can to train, with the best weather. Sometimes it's best to go over to Europe because they have the high glaciers and you can be on snow earlier there than you can in the United States."
Reiter is part of the U.S. snowboarding team, and he's hoping to go to his first Olympic games in February at Sochi in parallel giant slalom and parallel slalom. The team for his disciplines will be announced January 18. Four years ago Reiter was injured, but was still a first alternate to the games, and in 2006 he had an injury and was second alternate. From 2012-2013 season results, Reiter is ranked sixth overall in slalom and 11th overall in the world. "I've been snowboarding since I was 9 years old and it's been the driving force behind my life," he says. Reiter is active on social media for his fans and fans of the sport, including Twitter @Justin_Reiter. "I try and take as many photos as I can and the majority of them do involve my truck because that's what I live out of, so sometimes it gets to be the star of the show," he says.